reviews
Santa Barbara News Press - Sunday, April 9, 2000

First, Last and Deposit, a feature by Santa Barbara filmmaker Peter Hyoguchi will have its debut at the Los Angeles Independent Film Festival this week
By BEN HELLWARTH
NEWS-PRESS STAFF WRITER
e-mail: bhellwarth@newspress.com
Peter Hyoguchi, a novice Santa Barbara filmmaker with bold aspirations, is cautiously ecstatic that his feature debut will be among the movies shown beginning Thursday during the Los Angeles Independent Film Festival.
The sixth annual showcase in the heart of Hollywood received more than 1,700 entries this year but accepted just three-dozen for screenings. That in itself is a triumph for Hyoguchi and "First, Last and Deposit," the touching quasi-documentary he wrote and directed about a mother and daughter who get evicted from their Santa Barbara apartment.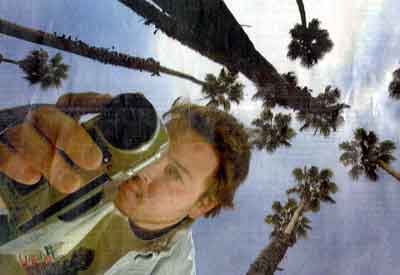 Peter Hyoguchi is part of a new generation of filmmakers who use digital video to bring gritty realism to films.
His low-budget effort, backed by Santa Barbara producer Duffy Hecht and the expertise of numerous South Coast technicians, will make its world premiere at 1:30 p.m. April 16 at a Directors Guild of America theater on Sunset Boulevard. It's part of a lineup that includes a movie starring Courtney Love, a coming-of-age tale penned by Pulitzer Prize-winning writer David Mamet and Academy Award-winner Shirley MacLaine's directorial debut The festival program pays Hyoguchi an Oscar-sized compliment by comparing "First, Last and Deposit" to "The 400 Blows," Francois Truffaut's semi-autobiographical 1959 cinematic landmark.
The six-day Los Angeles festival will also show the work of some first-time filmmakers, yet Hyoguchi's project is surely among the most humble, with its hometown setting, a cast of unknowns and a realism made more gritty and intimate by the use of a digital video camera not much bigger than a fist Hyoguchi likes to call his genre "digital vérité" an updated play on cinema vérité, the movement born early in the 20th century that sought to capture reality on film with a minimum of directorial intervention. Lighter-weight cameras and more compact equipment gave the movement fresh momentum in the 1960s and its legacy lives on in such popular television fare as "Cops" and "The Real World."
Then along came a startling new chapter with "The Blair Witch Project," the faux documentary shot for less than the price of a Range Rover. It spooked Hollywood last year by taking in millions at the box office — despite an amateur cast and the herky-jerky camera work of a home movie.
Hyoguchi, an ursine 28-year-old with a leisurely manner, talks about the entertainment business with a visionary zeal that makes him sound more like a learned graduate student than the high school dropout he is. Not surprisingly, he clearly savors the way that "Blair Witch" — about a trio of young filmmakers who backpack into a Maryland forest looking for clues to a creepy legend — so thoroughly shredded the Tinseltown rule book: No stars, low production value, no conventional screenplay structure, no fancy sets or explosive endings, and scarcely a drop of blood despite its horror-movie bent
But "Blair Witch" was shot with a 16mm-film camera and Hi-8 camcorder, both more conventional and costly formats than working with digital video, the technological key to making "First, Last and Deposit" Hyoguchi is not alone in believing that the digital video camera is a revolutionary tool that's sure to level Hollywood's pricey playing field.
"I've been let in the door because of this revolution. Because it has been, and still is, an elitist game. Even a low-budget movie is $1 million. Who has $1 million? I don't even have a credit card, said Hyoguchi, sitting in the downtown Santa Barbara room he rents in a communal house.
Digital video cameras can be had for as little as $1,500, and though a fraction of the cost of using standard film and cameras, digital video produces equally high-quality images and footage that can be readily edited on a home computer.
"I'm sure you will start seeing films made in high school and in grammar school The moving image is everybody's language. I think it is as important today as the alphabet," said Tom Pollock, the former Universal Pictures chief who started the Montecito Picture Co. with fellow Montecitan Ivan Reitman, a renowned director. "Just as people learn to read or write using letters, they will learn in the next century the language of the moving image, and it has a grammar and a structure just like everything else."
The low cost of digital video will indeed make the medium of motion pictures more accessible, Pollock said, but "when it comes to making successful movies, whether they're successful artistically or

commercially, it will come down to story telling, not the tools with which the stories are told." So for the thousands of eager filmmakers who think they've concocted the next "Blair Witch," very few will really have done so.
But even those odds signal a revolution, Hyoguchi firmly believes.
'This very democratic technology is going to allow stories to be told from all the classes that haven't been heard from — the mute masses," Hyoguchi said. "It's this huge, unparalleled technological advance that's going to change our society for the better, because it's all about understanding each other."
"First, Last and Deposit" is itself an effort to promote understanding, a quality that seemed to be in short supply in Santa Barbara when Hyoguchi moved to town with his single mother.
'The core reason why I wanted to do this movie was there's a lot of people, wealthy people, who see homeless people or people just living in poverty and they say to themselves, 'Well that person is stupid,' or 'That person is amoral,' or 'That person is a drug addict,' or 'That person is lazy,' because they don't know anyone in that class, and they just kind of have these preconceived notions," Hyoguchi said. "What I wanted to do was I wanted to give people the opportunity to meet these people, to really hang out with them, to spend quote-unquote quality time with people that they would normally not know."
"First, Last" introduces Christine (Sara Wilcox) and her 13-year-old daughter, Tessa (Jessica White), soon after they move to Santa Barbara from Arizona. Christine's boyfriend walks out, and her job as a grocery store cashier doesn't pay enough to cover the rent. Mother and daughter are unceremoniously evicted and are forced to live out of their car. To get by, they must put dignity aside and do things like sneak into the showers at the marina, with the aid of a sympathetic city parking attendant (played by former Toad the Wet Sprocket frontman Glen Phillips).
Besides the practical hardships of homelessness, "First, Last" explores the personal and emotional strains in ways reminiscent of Truffaut's bleak "400 Blows," with some plot twists that harken to 'The Bicycle Thief," an Italian neo-realist classic from which Hyoguchi drew palpable inspiration. But most modern audiences might understandably associate the movie's raw documentary quality with such recent PBS series as "An American Love Story" and 'The Farmer's Wife."
Hyoguchi gets an added stylistic boost from the digital format's familiar-looking newscast quality and from the little camera's ability to shoot unobtrusively. In the dim, cramped confines of a Toyota station wagon, where mother and daughter are forced to bed down, it's as if you, too, are snuggled up with them, their anxieties and disbelief.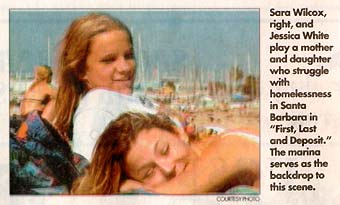 Santa Barbara's sparkling skies and picturesque vistas add an ironic backdrop to the human struggle unfolding on screen. The effect is plainly sobering to a coastal California audience accustomed to wearing blinders, or at least Ray Bans, when it comes to the hell some people may go through despite the paradisiacal settings. Yet Hyoguchi's take on the perennial theme of good people who fall on hard times is much more than a provincial public service message, as evidenced by its acceptance into the selective Los Angeles festival. Nor is the script, based on producer Hecht's story concept, solely about contending with homelessness. Much of the drama centers on parent-adolescent tensions — a clear "400 Blows" parallel — and on Tessa's quest for acceptance by her new, well-to-do junior high peers.
Her experience reflects Hyoguchi's own teen efforts to fit in as a newcomer.
"Tessa is like a female version of me," said Hyoguchi, who was 13 when he moved to town from the bohemian Bay Area hamlet of Fairfax. His mother, a secretary and artist who had just gone through a breakup similar to the one that precipitates the turmoil in "First, Last," didn't have much money. Hyoguchi didn't know anyone, and even when he found kindred spirits among bright kids like himself, he also encountered class lines that were difficult to cross.
"No one would let me in," Hyoguchi said. "I would meet kids, and they would ask me where I lived and what kind of car we drove. I'd meet their parents and their parents would ask me what my parents did for a living. And I was either rejected or embraced — literally good-bye! — if I wasn't part of a wealthy family."
Kids ribbed him for his rudimentary wardrobe and for wearing the same shoes every day. Yet like Tessa, in the hope of gaining a social toe hold, he would dodge the truth about his family circumstances and avoid bringing friends home to the little place downtown he shared with his mom, who now lives in Lompoc.
'The movie has a lot of scenes in it that are just taken directly out of my life — word for word, from people saying stuff—scenes that I lived through," he said.
The social rejection often stung, but it also forced him to escape into movies, which he had dreamed about making himself someday, ever since he saw "Star Wars."
"My movies were my friends," Hyoguchi said. "Fortunately, we had a VCR and I would rent literally like four movies a day and I would watch four movies a day."
Then he turned his viewings into more structured lessons by watching all the films of a single director, in the order they were made. So he'd have a day devoted to Martin Scorsese, to Barry Levinson, to Francis Ford Coppola, to Billy Friedkin, to Robert Zemeckis and on down the line. Hyoguchi's self-made course in film studies also led him to the literary works of giants like Jung and Dostoevsky.
At the age of 15, he even won a Lucasfilm-sponsored contest for aspiring filmmakers 18 and under, with a 5-minute short called "The Future's Future."
After working some disillusioning low-level jobs in Hollywood for a few years, Hyoguchi moved bade to Santa Barbara and made "Fagin's Children," a black-and-white project (available for rent in local video stores) loosely based on the strange story of the ring leader behind a string of Santa Barbara thefts in the early 1990s.
Other projects followed, including screenwriting jobs and his current foray into creating an online animated series for Tokyopop.com, a major Internet-based purveyor of Asian entertainment.
At the old Earthling Bookshop one day, a friend introduced Hyoguchi to producer Hecht, who later hired Hyoguchi to rewrite a script, and then offered him a job writing the screenplay based on the idea that would become "First, Last and Deposit".
"He really took to this story because it reminded him of his own experiences growing up in Santa Barbara," Hecht said.
Hyoguchi was not originally going to direct the film. But when Hecht got no response from some Hollywood talent, Hyoguchi offered to fill the director's chair and shot some sample scenes to win Hecht's approval.
In the spirit of neo-realism, Hyoguchi then lined up his cast of unknown Santa Barbara actors. Sara Wilcox, who plays Christine, was an old high school friend he ran into one night while in the process of casting the movie. She had done some local theater and commercial work, but Hyoguchi had never seen her in action.
"She did a reading and she was good I didn't know she was that good." Hyoguchi said.
To find his convincing teen-age characters, who play central roles in the action, he got permission from another friend, Jennifer Reinish, a drama teacher at La Cumbre Junior High, to videotape some of her classes and seek out promising young actors.
In Jessica White, the 14-year-old who plays Tessa, Hyoguchi believes he found an especially unique talent. "She's got this fearless quality of just allowing herself to be herself on camera," Hyoguchi said. "She can hit those emotional notes incredibly easily. She doesn't even know how good she is."
To enhance the film's cinema vérité feel, Hyoguchi had Wilcox and White spend time together to form a friendly bond and the basis of a more natural rapport.
'There was instant chemistry between Jessica and I," said Wilcox, 32, who works as a Web designer.
Hyoguchi then rehearsed scenes with the two actors, refining his script along the way to better reflect their speech patterns.
"The three of us spent many, many hours working out the dialogue and on the improvisation of the script," said Wilcox, who praised the young director's heartfelt vision.
"It was his ability as a director to get these performances and shape it," Hecht said. 'That's the job of the director and he was successful."
The Hollywood insiders attending the Los Angeles festival will now get a chance to decide whether "First, Last and Deposit" will find a home.